MAKERS WALL PLANNER 2023 edition available now

The Makers' Co 2023 Wall Planner is perfect for bloggers, creatives and small (or big!) business owners who want to forward plan, view their year at a glance, and have something bright and beautiful on the wall to help them do it.
Or just awesome people who like to be organised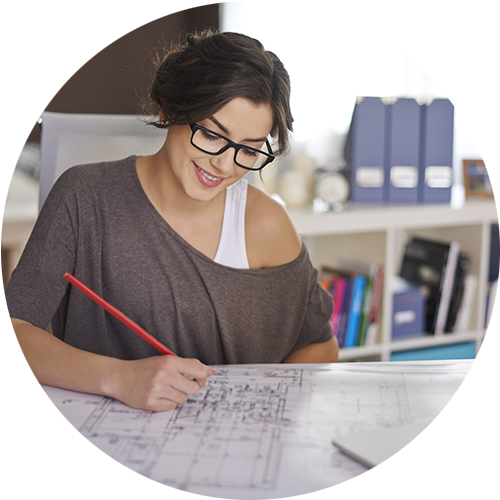 #Boss
Do you need a system to help with forward planning in your business and would like to view your year at a glance in 2023?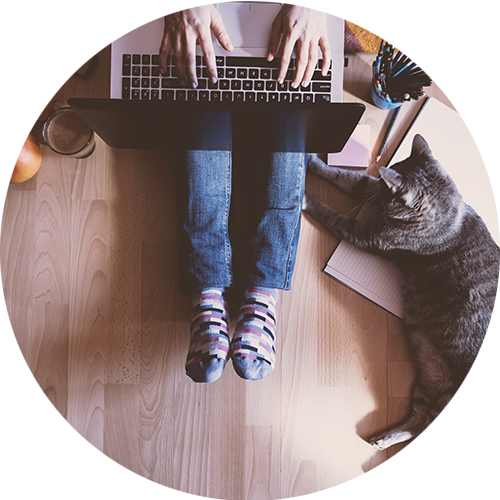 #Busy
Do you find yourself getting way too busy to think, with too many commitments all falling due around the same time?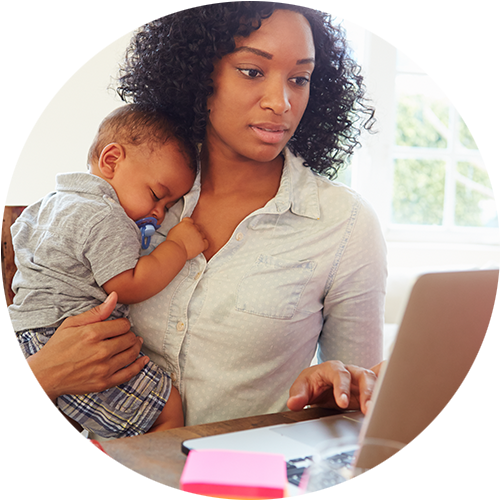 #BizMama
Do school holidays often creep up on you, and you find it hard to get work done in time for a product launch or market?
a Goal without a Plan is just a Wish
View your entire year at a glance
✓ Plan your year ahead of time
✓ Ensure no projects fall due at the same time
✓ Avoid getting overwhelmed with too many commitments
✓ Keep on track with quarterly goals
✓ Easily transfer important dates from your daily and monthly planner
✓ Maintain important dates throughout the year
✓ Keep moving toward your goals with a monthly focus
✓ Plan your projects around holidays and other busy times to stay on top of everything
✓ Evenly distribute commitments over the year
✓ Feel more organised, less busy, and be able to enjoy your free time!
This would also make a great gift for anyone you know who runs their own business, what a nice way to support their hard work!
 What is it?
The Makers' Co Wall Planner is a twelve month 2023 Calendar for your wall, printable up to A1 size (or smaller if you like!).
The planner has been designed with business owners, bloggers and creatives in mind, laid out quarterly with space for your over-arching goals, and your monthly focus.
The wall planner is big to make sure you have an overview of the entire year, which helps to keep you on track and lets you focus on your priorities for each quarter without having that feeling that you're forgetting something important.
The Makers' Co wall planner allows you to plan your entire year in advance, avoiding clashing project dates and multiple commitments at once, reducing overwhelm and moving you forward towards your goals, every month.
How does it work?
The Makers' Co 2023 Wall Planner is a digital download, supplied as high-resolution PDF file that can be printed at your favourite printer with poster capabilities.
Because of my reduced capacity to update the planners while I undertake my PhD, the 2023 planner is a slightly more basic design that includes my original artworks in the background, with a clean calendar with only dates included – there are no public, school or religious holidays included in this version. 
Purchase your planner now through The Makers' Academy website, and you'll be able to download your file immediately. You can then upload this file to any printing company and wait for the happy mail to arrive!
Flexibility
The 2023 Wall Planner has been made available as a printable digital download, which means you have a lot of flexibility in how your final planner turns out.
12 Month A1 Print
Use the planner as-is, printed full size and hang with clips or pin to a board, use pencils, pens, markers, post-its and stickers to note important dates and projects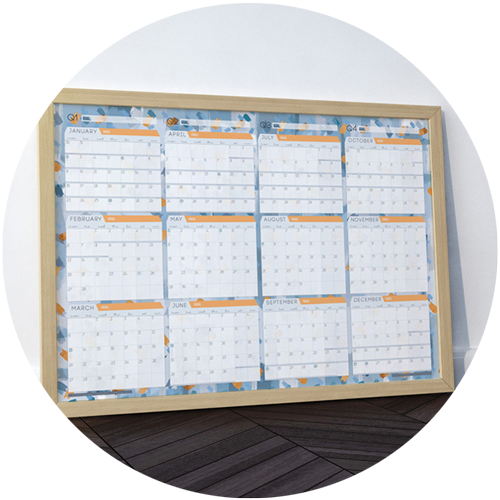 Laminated or Framed
Once you have the planner printed, laminate or frame behind glass to turn it into an erasable planner, using colour-coded whiteboard markers or chalk pens and erase easily when needed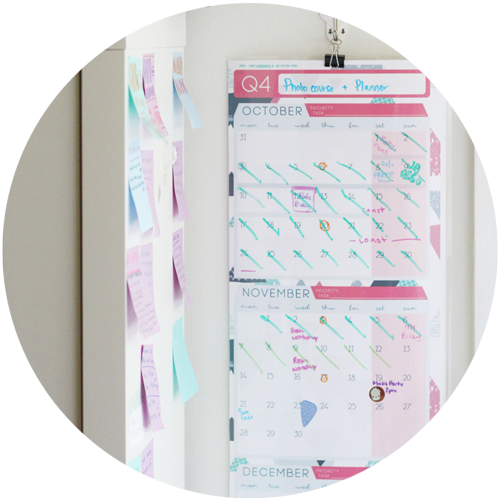 Cut to Half-year or Quarterly
Cut the planner into half or quarterly sections to fit in smaller wall spaces or to help you focus on shorter periods of time, or remove months that have already passed
Don't be a wishful thinker. Be an action taker.
Check out the Wall Planner Gallery
PLEASE NOTE: These are designs from previous years – please check the thumbnail of the current versions below the gallery to see the 2023 designs
Purchase your 2023 printable Wall Planner now
$15
Choose your colour below  – You will be forwarded to your download immediately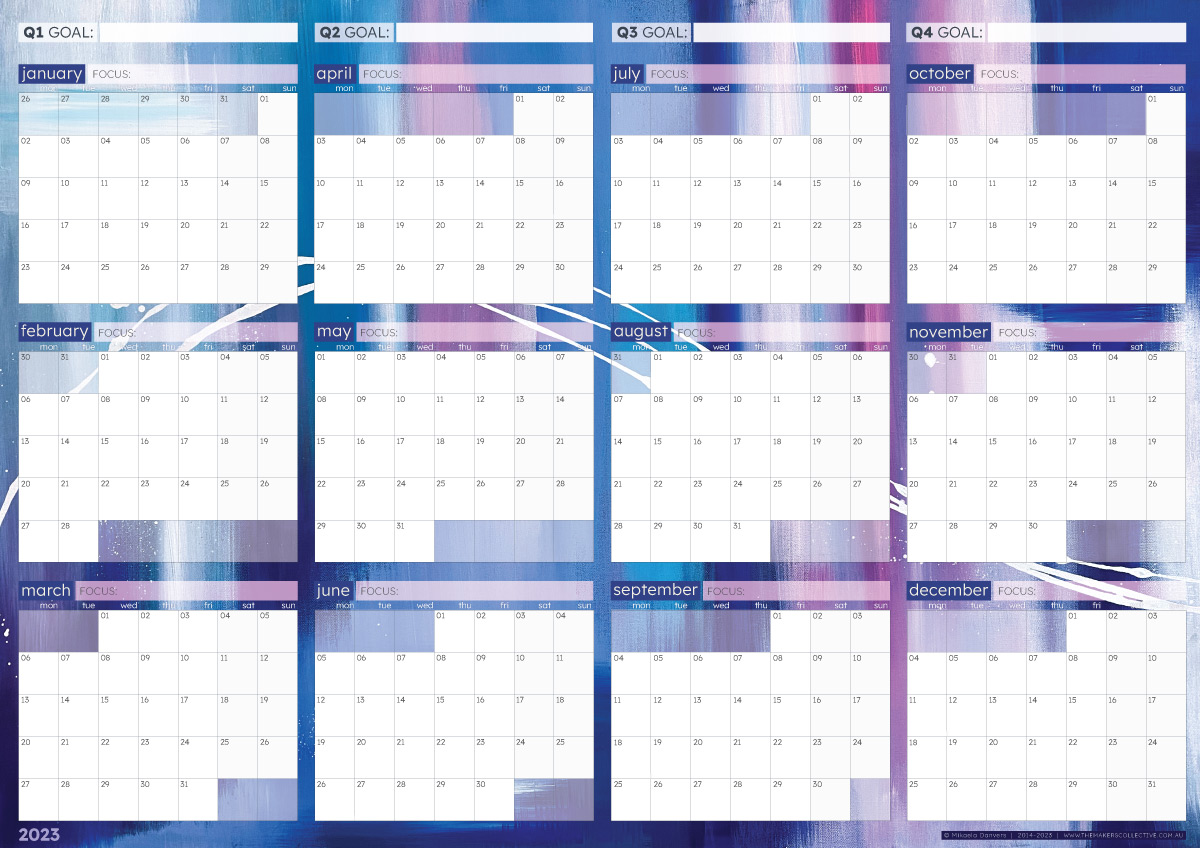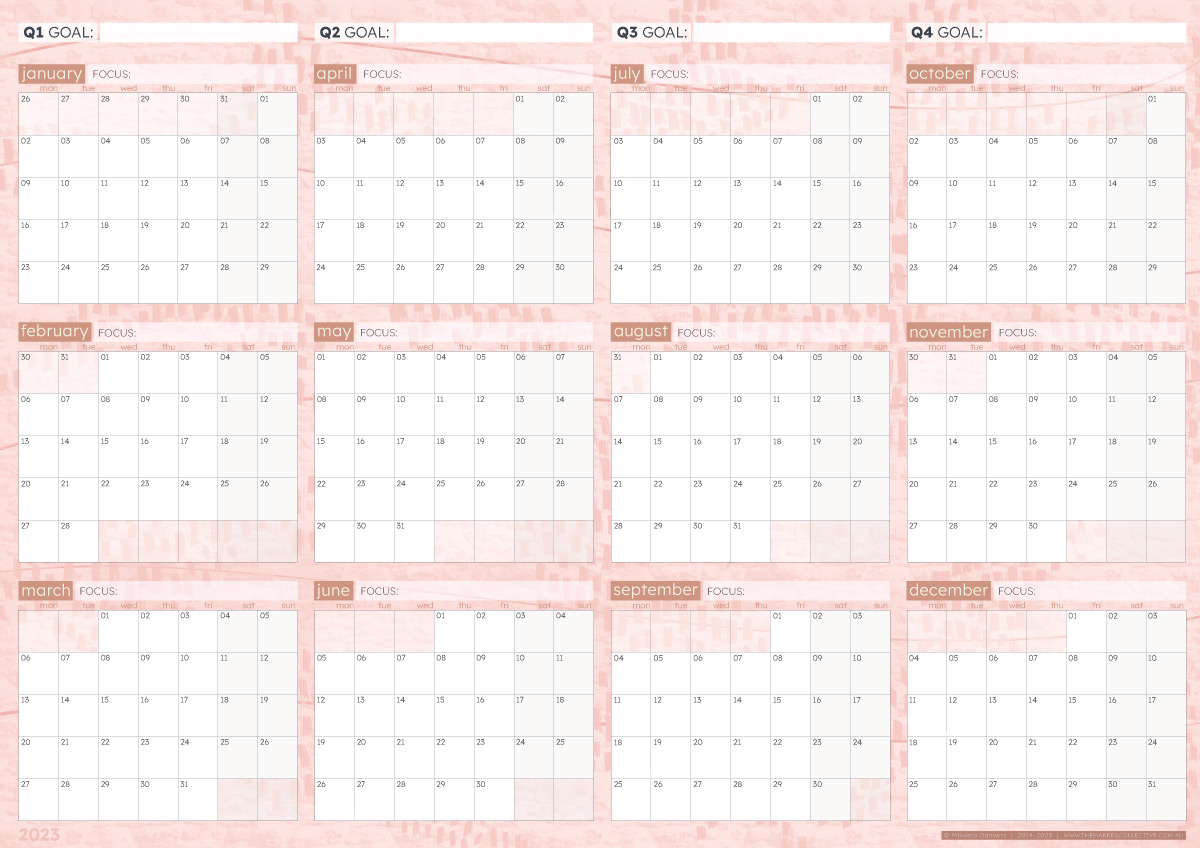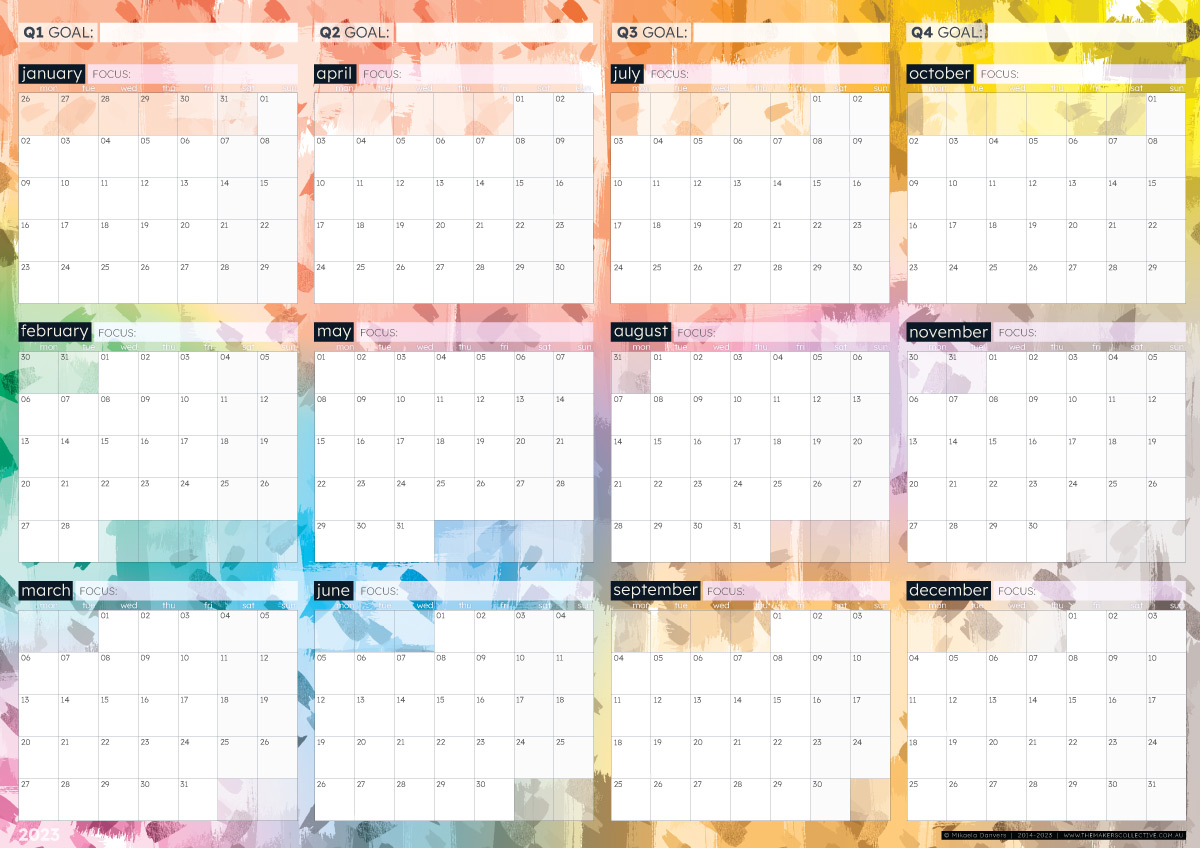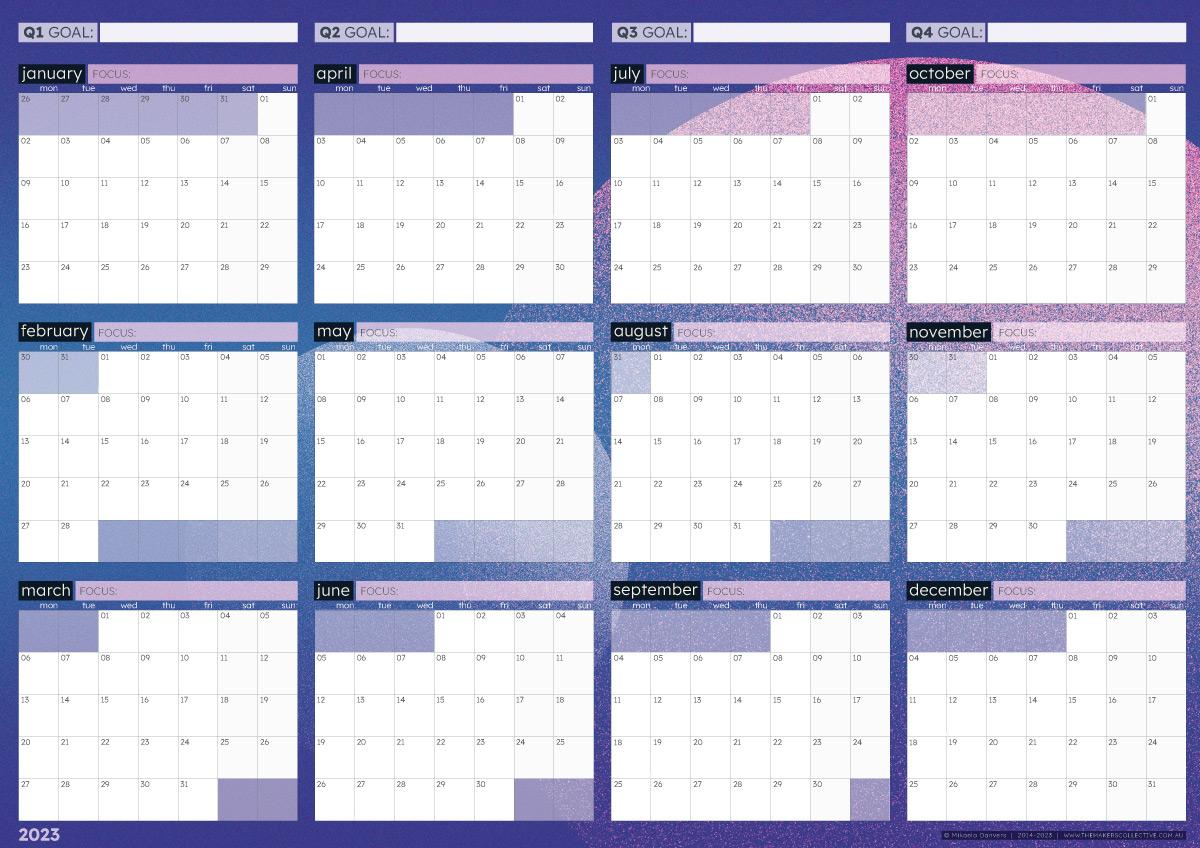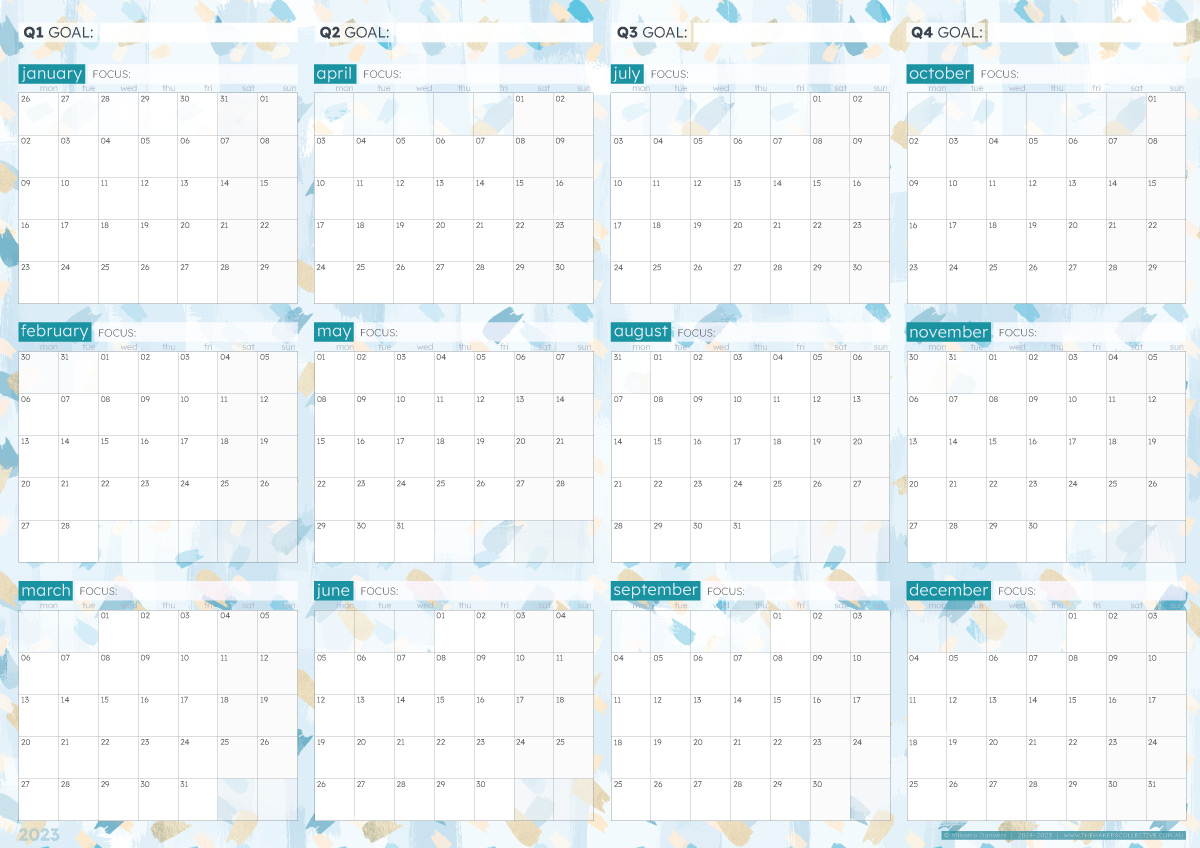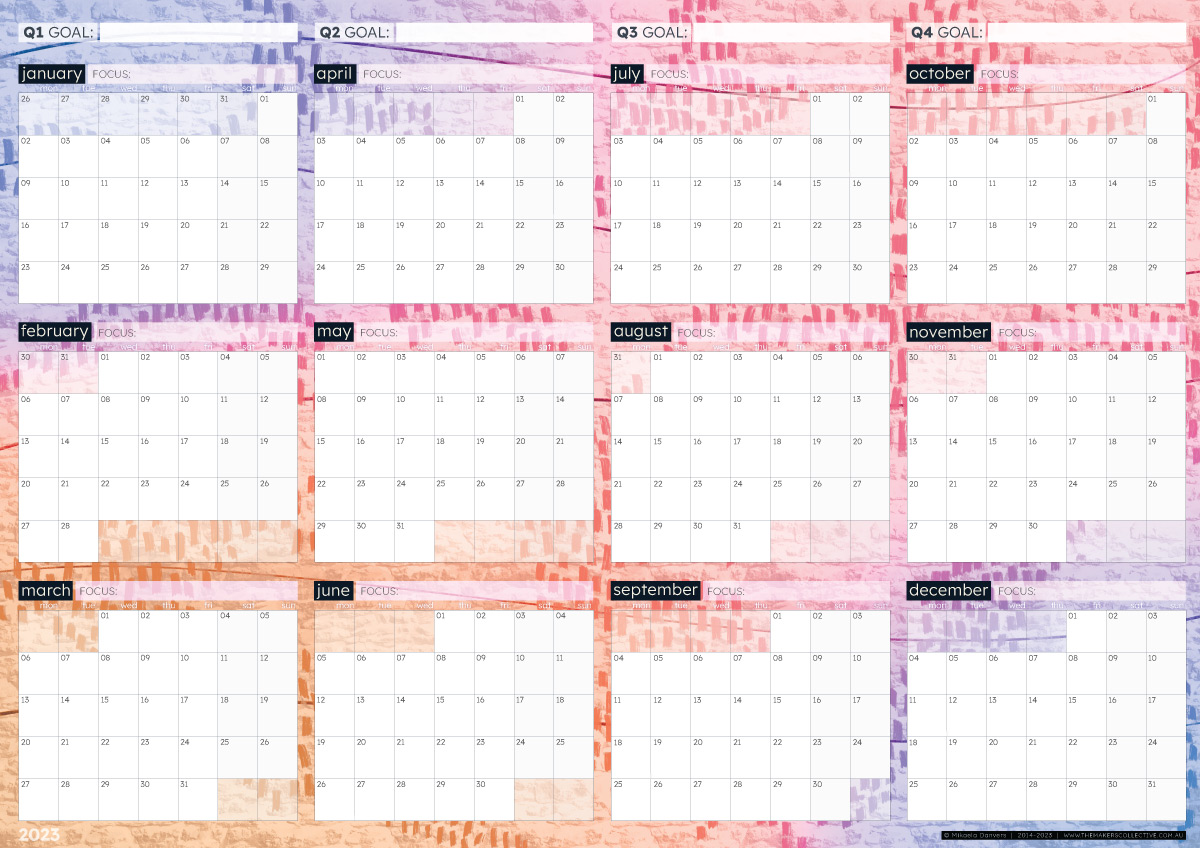 I'm building this community of makers and creatives so you have an awesome network of like-minded peeps to support and encourage you in your creative adventures. I try to create stuff that will make navigating that path a little easier for you =)
I'm a creative kid from way back, with lots of ideas in my head and the determination to follow my own path in whatever I choose to do. I'm a bit of a go-getter, and basically just believe anything is possible if you work really effing hard for it. I'm very lucky to be a mama of 2 with a very supportive family.
Having a supportive family is tops, but sometimes you just want to hang with your peeps that get you, and your crazy creative ideas.
This is why I've created The Makers' Co, for you, for me, for all of us.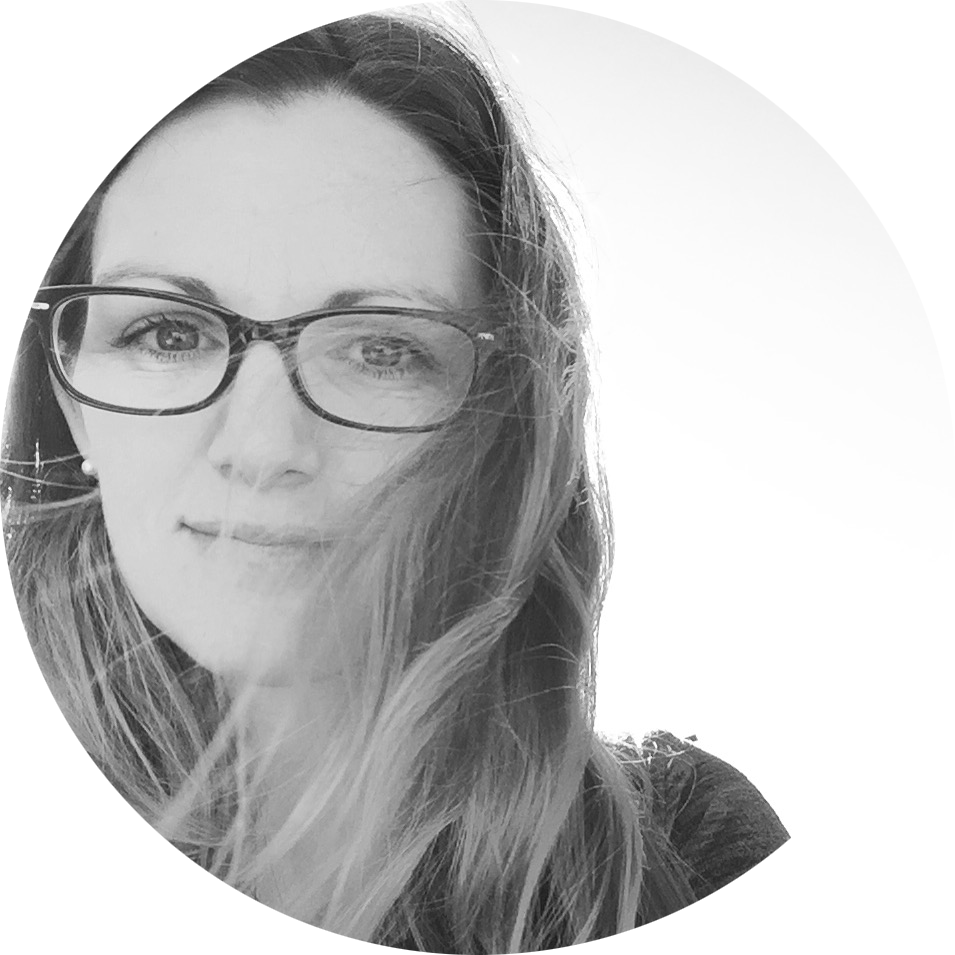 Your purchase supports the following organisations with our yearly contribution of a percentage of profits: